Wild dogs are not only a threat to native wildlife but also generate significant losses for primary producers; direct impacts such as killing and maiming stock, as well as the time and resources invested into control strategies, affect operational costs.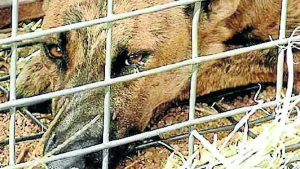 Landholders have a new tool available for use in their wild dog control toolkit, they can now access WildDogScan with their mobile phones to record wild dog data while in the field.
The new, easy to use website and Phone App (free for Apple and Android devices) was designed by landholders and enables iPhone, Android and iPad users to record sightings using their mobile phone. It also allows users to examine wild dog data throughout their local area.
Watershed Landcare spoke to FeralScan Project Coordinator, Peter West, to find out how landholders can utilise the new resource to aid in wild dog management.
"We are trying to encourage people to document wild dog activity in their local area and over time see a regional picture emerge in regards to wild dog movement, behaviour and timing of problems." said Mr West.
"Wild dog research suggests that there are patterns in activity and we are hoping that providing farmers with a tool to easily record wild dog activity will help them to build a picture of wild dog activity for their entire region, and that this helps all landholders in a region to improve wild dog management by reducing costs and increasing benefits." he continued.
The WildDogScan Mobile Mapping Facility allows landholders to:
record wild dog sightings, their damage and control activities,
use the data from their local area to create and print a map,
identify the priority areas for control on their property and local area,
link with neighbours and local groups and coordinate resources,
monitor the effects of control programs and improve their effectiveness,
review the map to see changes over time,
inform their community about wild dog problems.
"An added benefit is that it will help landholders and biosecurity staff connect. Key Local Land Services biosecurity staff can be notified of wild dog activity as it is recorded to keep everyone in the picture about current wild dog problems." said Mr West.
Visit www.feralscan.org.au with your mobile phone or download the free FeralScan App to get full use out of the WildDogScan mapping service.
Landholders who would like more information about WildDogScan can contact Peter West on 6391 3887 or by email peter.west@dpi.nsw.gov.au, or contact the NSW Local Land Services.
https://watershedlandcare.com.au/wp-content/uploads/2017/02/wild_dog.jpg
675
1200
wslc
http://watershedlandcare.com.au/wp-content/uploads/2016/12/logo-watershed-300x104.png
wslc
2017-02-14 13:05:31
2017-02-21 13:07:06
Mobile phone App to map wild dogs