Grazing for Drought
Increasing Drought Resilience Using Adaptive Planned Grazing
ABOUT THE PROJECT
This project is supported by Watershed Landcare Inc in collaboration with Central Tablelands Landcare, through funding from the Australian Government's Future Drought Fund. 
The project focused on encouraging people who graze livestock to learn about and to implement Adaptive Planned Grazing because it helps plan for, survive, and recover from drought.
What is Adaptive Planned Grazing? Read More
What does the Grazing 4 Drought project involve? Read More
Site Visits & Safe to Fail Trials
What is a Safe to fail Trial? Read More
The project provided funding for participants to implement a Safe to Fail trial (S2F), allowing them to observe and measure the benefits of APG in a low-risk way, and to learn and gather experience before deciding if they want to implement on a larger scale. Project staff and mentors provided guidance, training and mentorship during this process, including site visits; selection of trial sites; site set up with material costs covered by project; allocating funding and support to each collaborator.
As part of the project 24 landholders are trialling new land management practices, implementing a Safe to Trial, and are developing their skills and understanding to successfully implement Adaptive Planned Grazing.
Training with Holistic Management International & Resource Consulting Services
The project provided participants with a training bursary as well as generously discounted rates for training through our project partners, Resource Consulting Services and Holistic Management International, recognised trainers in grazing management.
7 landholders have undertaken further training (Resource Consulting Services Grazing Clinic or Holistic Management Grazing Clinic) and further developed their understanding of planned approaches to grazing management.
Group Workshops
64 landholders attended 'Improving drought resilience using Adaptive Planned Grazing' workshops. The purpose of the workshops was to bring people together in their local areas and serve as a launch event for the project and the new Grazing Groups. We invited local farmers who manage livestock, local mentors and experienced grazing trainers to share an introduction to Adaptive Planned Grazing and building drought resilience.
The workshops were open to large- and small-scale graziers. Participants had the opportunity to meet experienced managers already practicing Adaptive Planned Grazing, hear how it can help manage drought and see the results on-farm. The focus was on learning how to:
Estimate how much feed you have left on pasture
Adjust stock numbers before stock prices crash
Allow your land to bounce back faster after drought
Ongoing Support and Grazing Groups
An important objective of the project was to establish and support new grazing groups. Project participants were linked with project staff, mentors and contributors to monitor progress and maintain contact throughout the duration of the project. Additional support was provided through farm walks, field days, training sessions and webinars.
Two new grazing groups formed as part of the project: Gulgong/Rylstone and Bathurst/Stuart Town (the Bathurst and Stuart Town groups were initially separate but have since decided to combine). Watershed Landcare's existing Mudgee based Grazing Group was also engaged as part of the project. Following the initial workshops follow-up meetings were held on APG collaborators' S2F trial sites.
The groups form a Community of Practice (CoP)
Domain: A domain of knowledge creates common ground, inspires members to participate, guides their learning and gives meaning to their actions.
Community: The notion of a community creates the social fabric for that learning. A strong community fosters interactions and encourages a willingness to share ideas.
Practice: While the domain provides the general area of interest for the community, the practice is the specific focus around which the community develops, shares and maintains its core of knowledge.
The 2 newly established groups have already met once under their own impetus in late 2022, have planned meetings for 2023 and etablished a Facebook group to communicate. Members will continue to meet on an ongoing basis to give peer support, learn from each other and discuss ideas, successes and failures. The groups will be supported after the completion of the project.
A community of practice (CoP) is a group of people who "share a concern or a passion for something they do and learn how to do it better as they interact regularly".
A CoP can evolve naturally because of the members' common interest in a particular domain or area, or it can be created deliberately with the goal of gaining knowledge related to a specific field. It is through the process of sharing information and experiences with the group that members learn from each other, and have an opportunity to develop personally and professionally.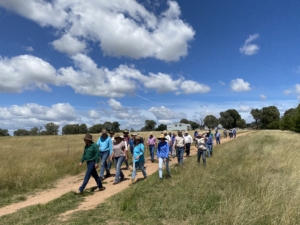 This project received funding from the Australian Government's Future Drought Fund.