Well if you are a small animal, such as the eastern pygmy-possum, then it might take 100 years for a tree to grow large enough to develop a hollow suitable for you to nest in. If you are a parrot or an owl, and require a larger, deeper hollow, then it might take 200-300 years to develop.
A large variety of creatures rely on hollows for nesting or breeding habitat; from tiny microbats, possums and gliders, to owls, cockatoos and other parrots. And they all have different requirements and preferences as to the size and shape of the of the opening, and the depth, volume and extent of insulation of the cavity.
A range of hollow types is necessary for biodiversity and the presence of old, mature trees in the landscape is crucial.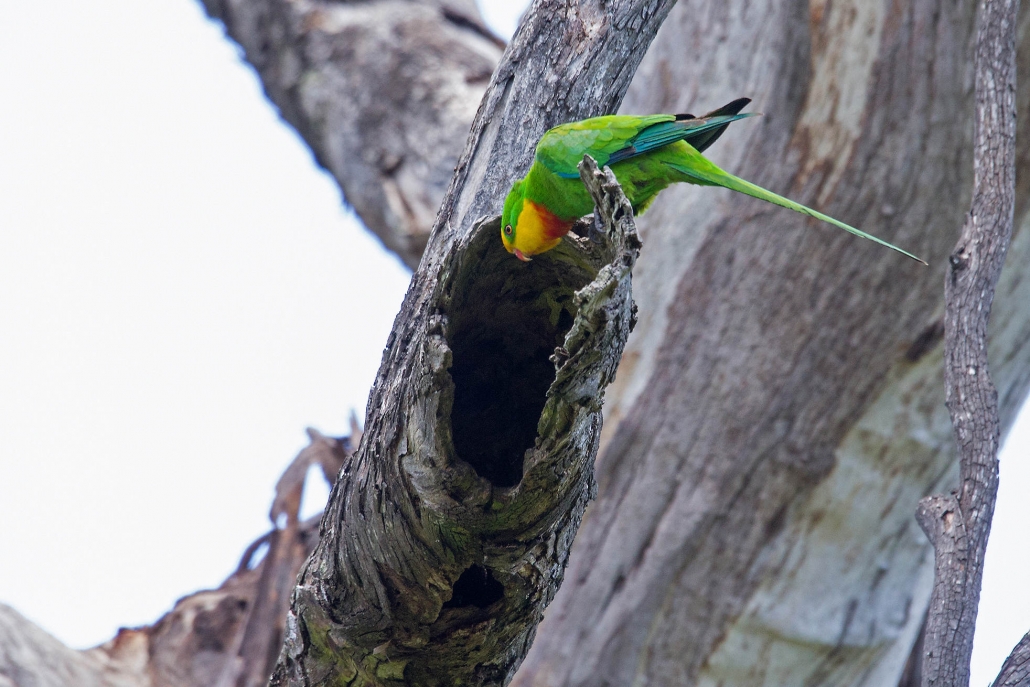 Hollows occur primarily in old eucalypt trees, where formation by wind breakage of limbs, lightning strike or fire, termite, insect or fungal damage is less likely to be covered by growth of external sapwood. Hollows with large internal dimensions are particularly rare and only occur in large, old trees with sufficient trunk diameter.
Hollows are becoming an increasingly scarce resource for hollow dependant species, those that rely on hollows for shelter and nesting, either on a daily or seasonal basis. The loss of hollows can lead to local extinctions of these species.
Many of our mature old trees are isolated and under stress, or reaching the end of their life span, and natural recruitment is rare, particularly in agricultural areas where woodlands have been converted to crops and pastures.
This is part of the reason why many of our large hollow-nesting birds, including the Glossy Black Cockatoo and Superb Parrot, are vulnerable or endangered. The loss of tree hollows has been listed as a key threatening process by the NSW Scientific Committee.
What can you do?
Retain live and dead hollow bearing trees
Protect vegetation which produce hollows
Plant local native species that produce hollows
Watershed Landcare have launched our 'A Home Among the Gum Trees' project and we are seeking expressions of interest (EOI) from landholders in our region to protect mature hollow bearing paddock trees on the land they manage. Funding of $7,000 is available to conduct on-ground works which protect mature habitat trees, the project is now open for EOIs and will close on 15 February.
For more information or to submit an EOI, visit our website: http://watershedlandcare.com.au/projects.
The Watershed Landcare 'Home Among the Gum Trees' Project is supported by Local Land Services through funding from the Australian Government and is a component of the Driving Corridor Connectivity Project funded through NLP2.
https://watershedlandcare.com.au/wp-content/uploads/2019/03/Superb-Parrot_small.jpg
1310
1964
wslc
http://watershedlandcare.com.au/wp-content/uploads/2016/12/logo-watershed-300x104.png
wslc
2019-02-08 08:14:54
2019-03-01 08:17:57
Imagine it took more than a 100 years to build your home?