Did you know that there's a rare plan growing right on Mudgee's doorstep?
The Small Purple Pea, Swainsona recta, is a slender, erect perennial herb growing to 30 cm tall. It flowers from spring to summer, with each flower stalk bearing up to 20 bright purple, pea flowers.
Once widespread in grassland and open woodland of south-eastern Australia, the species is now listed as endangered with only a few scattered populations existing in NSW, the ACT and Victoria.
Over the past 60 years it's know range has been drastically reduced due to loss and degradation of habitat. Increased grazing pressure, land clearing and competition from invasive weeds have all contributed to the decline of the Small Purple Pea.
The Central Tablelands LLS have launched a project to work with community and local government to protect this beautiful endangered plant. And you can get involved.
The project, funded by the Federal Government's National Landcare Program, will undertake works to assist in the recovery of Small Purple Pea populations in grassland and woodlands around Mandurama, Wellington and Mudgee. Activities will include identification workshops, on-ground surveys to find new populations, weed control and fire management.
"With the Small Purple Pea being endangered we are lucky in Mudgee to have two viable populations on our doorstep. Its exciting to see these populations being looked after and its great to be able to get the community involved in this project." said Evelyn Nicholson, Central Tablelands LLS Land Services Officer.
"All community members, regardless of skill level are welcome to come and take part in our surveys in the Avisford reserve or over at Wellington which will hopefully identify new populations of the Pea and help protect it further into the future." she continued.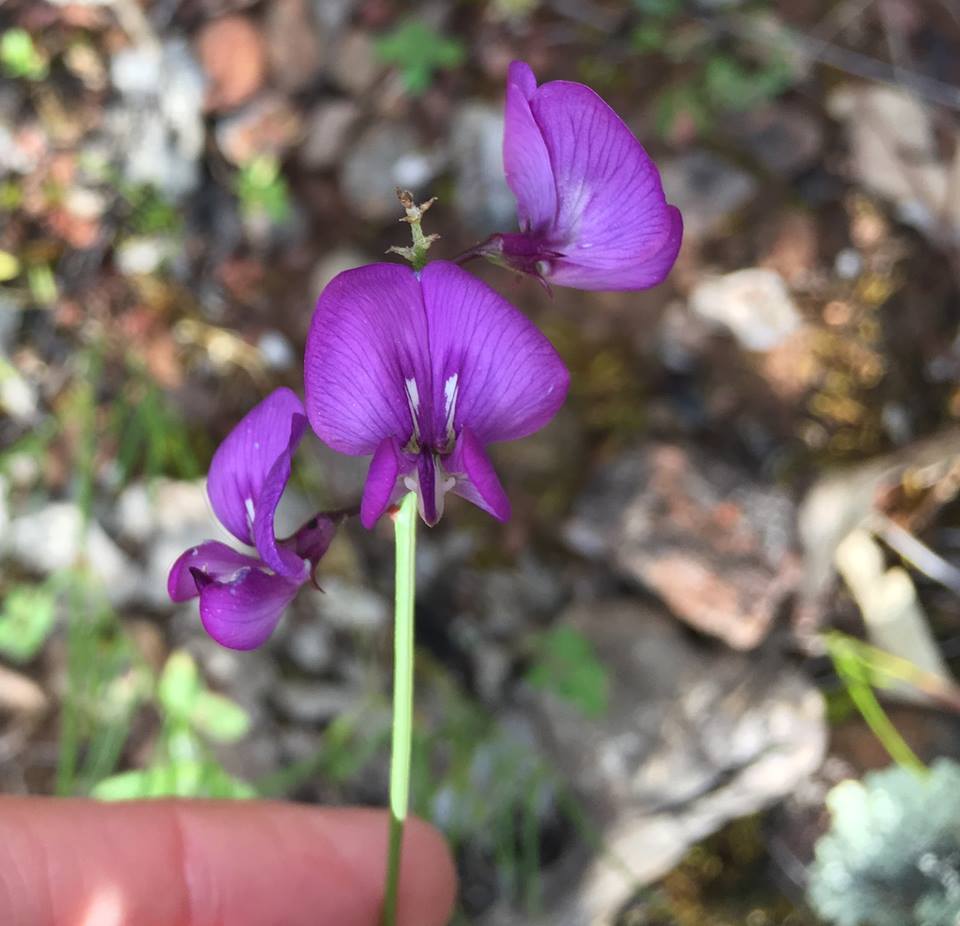 The project will kick off with a couple of Small Purple Pea identification workshops and members of the community are invited to attend. Come along and learn more about the plant, it's threats and how you can assist in the recovery of the species.
The Mudgee ID workshop will be held at the Mudgee Common/Flirtation Hill on Sunday 23 September from 10:30am-1:30pm. For more information or to RSVP contact Evelyn Nicholson on 0427 637 907 or email: evelyn.nicholson@lls.nsw.gov.au.
The Wellington ID Workshop will be held at Burrendong Arboretum on Monday 24 September from 10:30am-1:30pm. For more information or to RSVP contact Libby McIntyre on 0429 019 309 or email: libby.mcintyre@lls.nsw.gov.au.
Lunch and refreshments will be provided at the workshops.
Volunteers are also needed to conduct regional surveys between 17 and 28 September. No skills are necessary as all training will be provided. Contact Evelyn Nicholson to register your interest.
https://watershedlandcare.com.au/wp-content/uploads/2018/10/swainsona_recta.jpg
926
960
wslc
http://watershedlandcare.com.au/wp-content/uploads/2016/12/logo-watershed-300x104.png
wslc
2018-09-14 09:30:46
2018-10-08 09:33:24
Saving the beautiful small Purple Pea