The Superb Fairy-wren is one of Australia's most recognisable and favourite birds. And who doesn't enjoy watching the antics of these charismatic, active and social backyard visitors? But did you know that the males undergo a seasonal colour change?
The striking iridescent blue with highly contrasting black and grey markings of the male Superb Fairy-wren is instantly recognisable. But the males only adopt this colouring for the duration of the breeding season in the warmer months. There is a good evolutionary reason for moulting twice a year, instead of once a year like most other birds.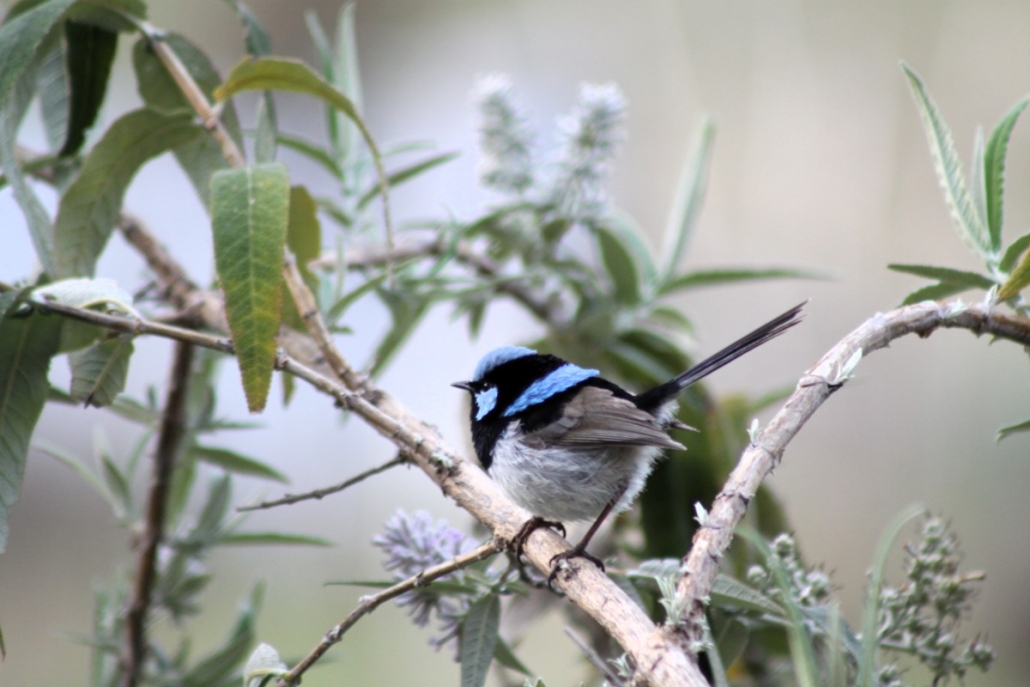 While these little birds are socially monagamous, they are sexually promiscuous. They live in family groups and the dominant male and female form a stable pair to raise young, but both partners will mate with many individuals from other groups. So males adopt showy, noticeable colouring to attract as many females from nearby groups as possible.
As the breeding season ends and we move into winter, the breeding males revert to the duller, grey-brown colour of females, juveniles and non-breeding males. During this time insects become less abundant and the birds need to spend the majority of their time in the open foraging.
Being extremely attractive to the ladies has its cost. Fairy-wrens are vulnerable to predation from larger native birds such as Magpies, Kookaburras and Currawongs as well as introduced mammals like the fox and cat. Although brilliant blue feathers may be extremely attractive to females, it also makes the breeding males highly conspicuous to predators.
And the birds seem to be aware of this too. A study conducted by Monash University and Australian National University found that plumage colour changed behaviour.
The researchers played low-level and high-level alarm calls to the birds through portable speakers. Birds were fitted with coloured leg bands allowing the team to track individual birds' responses.
The team found that males in their blue plumage were much more cautions than in their brown plumage. They reacted to low-level alarm calls more readily and took a longer time to come out from shelter.
The behaviour of other birds in the group was also affected. When a blue male was nearby, other wrens were less responsive to alarm calls and devoted less time to keeping a look-out.
The results suggest that the seasonal colour change is an adaptation that allows the birds to have the best of both worlds: they can be sexually attractive and bright while breeding, but also dull coloured and difficult to detect by predators outside the breeding season.
https://watershedlandcare.com.au/wp-content/uploads/2020/05/fairy-wren.jpg
800
1200
wslc
http://watershedlandcare.com.au/wp-content/uploads/2016/12/logo-watershed-300x104.png
wslc
2020-05-08 12:05:22
2020-05-13 12:06:46
Have you seen a blue Superb Fairy-wren lately?