For the past 5+ years, Watershed Landacre volunteers have grown native plants for us to sell at the Mudgee Small Farm Field Days each year. During 2019-20, the opportunity arose for this to evolve into the Watershed Landcare Nursery, to grow plants (mostly to order) for our members and the community to undertake revegetation activities on their properties – large or small.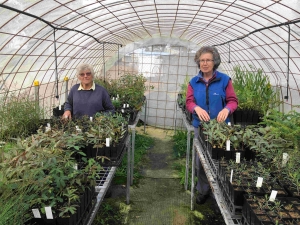 The Nursery can grow a range of trees, shrubs, grasses and ground flora, with our species list dominated by the local vegetation types within Mid-Western Regional Council area. The Nursery is operated by volunteers with support from our Coordinator and all sale proceeds support the Nursery and Landcare activities across our region.
HOW TO ORDER:
Download the Order Form
Select your species and quantities
Complete the Order Form and email to claudia.wythes@watershedlandcare.com.au
We will contact you to confirm your order and arrange payment/deposit
WHEN CAN I PLACE MY ORDER?
Orders for tube-stock to be planted in Autumn 2021 (April) must be placed BEFORE FRIDAY 13 NOVEMBER 2020. This allows time for seed to be sown and plants to be grown out to a suitable size for planting. Some species may require longer than 6 – 7 months to grow to a suitable size. Orders for Spring planting (August- mid September) can also be placed at this time.
WHAT SPECIES CAN I CHOOSE?
Information about the species available can be found in the Species List. Broader information about plant species can be found in our publication – Native species revegetation – a guide for the Mid Western Regional Council Area.
It is possible for us to grow other species, if seed is available. For more information please contact our Coordinator, Claudia Wythes on 0412 011 064 or claudia.wythes@watershedlandcare.com.au
QUANTITIES
Where possible, species should be ordered in multiples of 40. This is the size of the racks we use in the nursery and assists with assembling your order prior to pick-up.
Purchases of up to 400 plants (10 trays) must be paid for in full at the time of placement of the order.
For purchases over 400 plants (10 trays), a deposit of 50% of the total purchase price must be paid before the order can be confirmed.
PRICES
PRICING

<400 PLANTS
>400 PLANTS (10 trays)
FINANICAL MEMBER

$2.75 (inc GST)

$2.20 (inc GST)

NON-MEMBER

$3.30 (inc GST)

$2.75 (inc GST)

Terms

Paid in full upon order

Deposit – 50% of order

Collection – Remaining 50% paid 48 hrs prior to collection
The Full Terms & Conditions can be found in the Order Form.
For more information please contact our Coordinator, Claudia Wythes on 0412 011 064 or claudia.wythes@watershedlandcare.com.au